Compression Garment Fitting
"Correct fitting and choice of garment is essential"
If your doctor has asked you to wear a compression garment, it is imperative that you are correctly fitted. These garments are expensive, you want the right one the first time. In fact, you will require two garments – one on and one in the wash.
Services – Compression Garment Fitting
My specialty is the Management of Lymphoedema and Lipoedema and I am trained in the fitting of garments. I maintain my registration and keep up to date with the latest trends and research by attending regular training with the different suppliers. Your doctor may advise you that you need to "wear" a garment, for any number of conditions (see the list below). You may have heard this referred to as a "compression stocking" for your leg/s or a "compression sleeve" for your arm/s but as you will see from the list below, garments can be made for every part of your body. Some can be bought "ready to wear" but some need to be custom made.
We've all put a flat pack together and decided 2 hours into what was supposed to be a 45 minute job that it would have been a good idea to read the instructions or ask questions.
You can do without that experience with your garment as they are expensive and required for your health. Avoid the stress and make an appointment to see me for a correct fitting, choice availability and education. This takes about 30 minutes in total and can cover the following:
Indications for use
Assessment
Choices and options (where applicable)
Where to order your Garment
What to do when your Garment arrives
Indications for Use
primary lymphoedema (hereditary or birth anomaly)
secondary lymphoedema (acquired from damage to lymph system)  eg:

traumatic (burns, crush, degloving, etc)
repeat bouts of local infection
bacteria
fungi
skin disorders
insect and spider bites
medical (removal of nodes, radiation of nodes, vein stripping, surgery that severs lymph vessels)

venous problems
oedema
travel
lengthy periods of immobility
lipoedema
Assessment
medical history
measurement of limb – essential for correct fitting
advice on the best garment for your condition as prescribed by your doctor
donning and doffing (put on and take off)
education as appropriate:

lymphoedema
venous insufficiency
travel
skin care
manual lymphatic drainage
exercise
precautions
when to see your doctor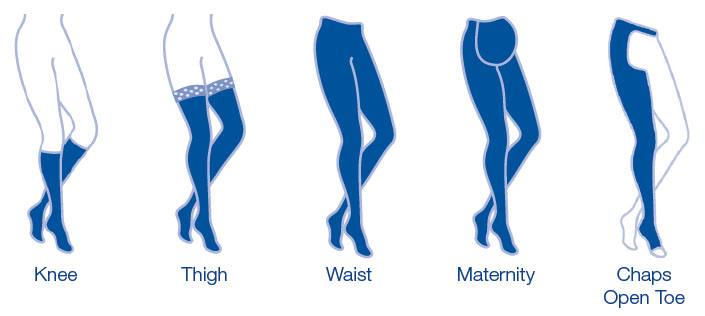 Choices and Options
*Not all choices and options will be available for your condition
available colours
styles – eg chaps, thigh high, pantyhose
open or closed toes
"going out / fancy" garment
maintenance garments
ready to wear (off the shelf)
custom made
Fittings available for toddlers, teens and adults
The Right Garment for You
….will be discussed in consultation with your doctor's request.
Three grades of compression:
15-20 mmHg (moderate)
20-30 mmHg (firm)
30-40 mmHg (extra firm)
Donning and doffing aids available
Order your Garment
I will then give you a "prescription" to take to your preferred provider (pharmacy) to ensure you get exactly what your doctor has requested in combination with your choices.
You will need to discuss pricing and delivery with this provider.
Alternatively, I can advise where to go in Brisbane if you are up for the trip.
Arrival of Garment
If you are happy with how to wear your garment, there is no need to see me at this stage.
If you are a little unsure and would like some help the first time you put your garment on:
teach you and/or your carer how to put your garment on and take it off
tips on making donning and doffing easier
go over the care of your garment
answer any questions
Types of Compression Garments
Below knee
Thigh high
Thigh with waistband
Tights (two-legged)
Tights (one-leg)
With foot piece or without
Anklets
Genital
Armsleeve
Mittens
Glove
Bra
Vests
Abdominal
Head and neck
Fitting Fee
Allow 30 minutes for measure and education. It will then take me another 30-60 mins of phone calls, emails and paperwork to complete your order

Measurements best taken early morning

Allow plenty of time to order your stockings – can take up to 6 weeks

Referral preferred – GP/Specialist stating condition

Measures taken for custom made / ready to wear
Gympie
By appointment only