Become a Decongestive Lymphatic Therapy (DLT) Practitioner
Are you interested in the lymphatic system? Do you have clients presenting to your clinic with a history of cancer, lymphoedema, lipoedema or other chronic congestive condition, but you're unable to treat them because you haven't yet had the appropriate training?
Then the Casley-Smith Decongestive Lymphatic Therapy (DLT) course will be perfect for you!  Done over two separate modules. This course is Module A, a 6-day intensive course covering theory and manual lymphatic drainage. This course is recognised by the Australasian Lymphology Association once both Module A and Module B are completed.

You may also know this as Complex Lymphatic Therapy (CLT) or Complete Decongestive Therapy (CDT).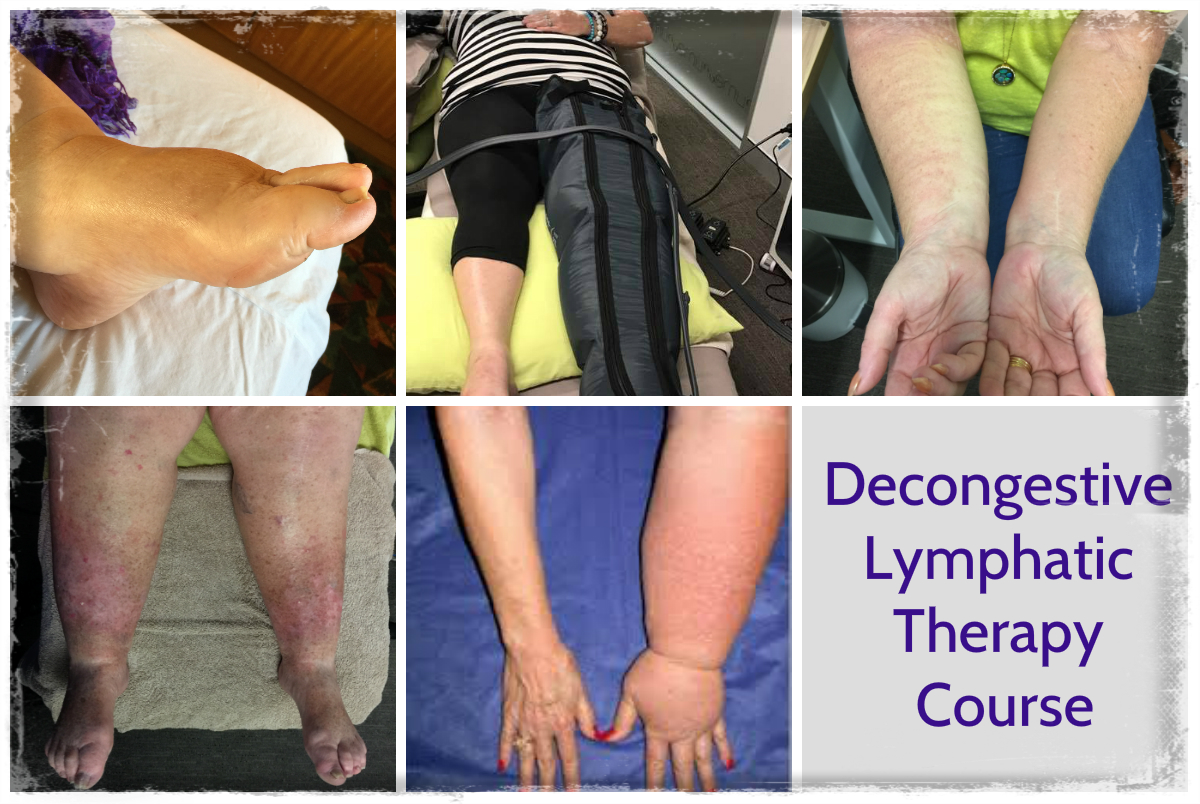 It's more than just Manual Lymphatic Drainage

How does Decongestive Lymphatic Therapy (DLT) training  differ to training in Manual Lymphatic Drainage (MLD) only? DLT is a therapeutic protocol comprising 5 components of treatment which include: Manual Lymph Drainage (MLD); compression (bandaging/garments); skin care (and precautions); exercise and a home program including activity modification that are integral to each other for the best outcome for those with decongestive conditions. This training will allow you to broaden the scope of clients you can treat to include those who have had lymph node removal or damage including surgery and/or radiation for the treatment of cancer; those having multiple surgeries over a period of time where lymphatic pathways and nodes have been disrupted; clients suffering burns, crush fractures and degloving as well as general conditions like sinusitis, headache, acne, immobility, travel.
Manual Lymphatic Drainage (MLD) is just one component of a bigger picture and when done in isolation on a client who has a problem with their lymph nodes (via a congenital cause or through surgery, resection, radiation or trauma) without a thorough understanding of the consequences and contraindications, you could inadvertently be putting your client at risk of developing or worsening lymphoedema. MLD training alone is beneficial for general use.
Module A covers MLD, skin care, exercise (basic), home program (activity modification). This includes prophylactic, reduction and maintenance of their lymphoedema. You will be given an awareness of compression including garments and bandaging, however, this is covered extensively in Module B, which you may choose to undertake at a later date.
Please note: This is more than just "moving fluid" and "gentle touch". Classes are small. The training is intensive and you need to be present. I keep the classes to a maximum of 4-6. (Private classes maximum of 2). Have you ever attended training in a large class?  It can be difficult to find the time to have your questions answered, you may not feel brave enough to ask a question in a large class for fear of feeling silly and sometimes there just isn't enough time to have 1:1 with the teacher to check techniques.  My small classes give you plenty of time to learn and practise how to safely and effectively deliver Decongestive Lymphatic Therapy (Manual Lymphatic Drainage) to clients who have cancer or other serious conditions affecting their lymphatic system. Private classes are available.
Module A topics covered include:
History of lymphoedema

Anatomy and physiology of lymphatics

Pathology of oedema, lipoedema and lymphoedema

Classification and stages of lymphoedema

Treatment of lymphoedema

Principles of Decongestive Lymphatic Therapy

Taking an accurate health history for decongestive conditions

Lymphatic drainage techniques and sequence 

Case studies

Demonstration of bandaging and garments

Down to business – how to add this to your service menu, marketing and how to run an event


Practical skills assessment during the course
Treat Clients with Conditions during the Course:
During the course, I endeavour to organise clients with a condition like lymphoedema, lipoedema, history of cancer with or without lymphoedema and a pre and post-surgery client, to come into the classroom.
This really embeds learning, builds confidence and opens up a good chain of communication, encouraging students to think laterally and problem-solve in a safe and supervised environment before they have to "go it alone".
Objective / Learning Outcome:

Detailed understanding of the lymphatic system

Competent to treat/assess clients with lymph node removal with an effective manual lymphatic drainage, diaphragmatic breathing and other tools

Delivery of an effective manual lymphatic drainage to a healthy person

Liaising with other medical professionals

Recognise that a patient requires referral

Work within your scope
What is included:

Comprehensive manual

Textbook

Tote bag with other resources/tools

Customisable letter templates

Customisable patient information sheets

Customisable in-service form
NB:  Module A and Module B are separate courses with separate fees.
Module A undergoing accreditation.
Module B lecturer is Elsebeth Petersen – next course 03 – 08 March, 2020 FULLY BOOKED

Is it difficult to attend courses away from home?
Gather a group of 4-6, set a mutual date, help with a venue and I will come to you.

Enquire re Private* Classes:
– Brisbane
– Gold Coast
– Sunshine Coast
– Gympie
– Bundaberg
* discounts do not apply
Why choose a private class?
Practising and learning this on several different clients with different conditions gives you the opportunity to gain valuable hands-on experience. Interaction with the client, taking their health history, hearing their journey of  trials and tribulations, feeling and seeing the skin changes, discussing a treatment plan and then implementing this is a real value-add to your training. My clients are eager to help you and happy to answer your questions.

It's so worth doing the training at my home clinic or one of my other private class locations, as you also get to see and use the resources I implement in my treatment plan. You will leave feeling more confident having had this experience (as opposed to working on your otherwise healthy classmates).
PRIVATE CLASSES - TBA
Early bird: not applicable
Venue: My clinic, Morayfield, Qld
Next class: TBA

Accom: AirBnB nearby
Accommodation and meals package available
Treat 3 to 4 different clients with different conditions

---
Qualifications / Memberships
Decongestive Lymphatic Therapy Practitioner
Oncology Massage
Remedial Massage Therapist
Pregnancy Massage
Australasian Lymphology Association (ALA)
National Lymphoedema Practitioners Register (NLPR)
Decongestive Lymphatic Therapy (Casley-Smith Method)
Massage & Myotherapy Australia (MMA)
Diploma Remedial Massage
Trainer & Assessor - TAE40116

My career change came after a long history of working in executive medical administration in both the public and private sector with a strong organisational skill set seeing me organising medical conferences and events and as secretariat for 20+ meetings some months, plus all the other "admin" tasks.
A lot of this time was working around cancer services. I felt there had to be more for the patient going through such a life-altering experience than doctor's appointments, tests, surgery. The impact on friends and family, with them not knowing how to respond in word or touch and then there were those with nobody at all for support.
I needed a change and this was the perfect next step for me…..
read more
"Dear all
Just writing to say a massive Thank you to Jacqui and to Sophie for getting Jacqui to come to Tamworth. And the rest of you for allowing me to practise on you!
I just had the MOST amazing day in my clinic today.
I saw all my people I suspected of lymphoedema today – it was truly a revelation to look at them through this new lens -combine it with my scars skills and see the most fantastic results. Thank you for putting yourself out there and teaching Jacqui – today i significantly helped 3 people with what i had learnt over the last week." Christine, Armidale
"Jacqui is a fantastic knowledgeable person. She is always willing to help and advise us and pass on her experience and knowledge."
"Jacqui is very good at engaging the class in the learning process".
"My trainer, Jacqui, is an exceptional trainer with a bulletproof work ethic. She has gone above and beyond what I would expect from a trainer".
"Jacqui has been of great assistance in ensuring content of the course material is presented in a manner that is understood by all".
"Jacqui is a fantastic, supportive, very knowledgeable teacher. Always encouraging". Answers to the most commonly asked questions:
If your question is not answered here, please get in touch.
Who can attend this course?
Physiotherapists, Occupational Therapists, Nurses, Podiatrists, Remedial Massage Therapists. If you are interested in attending and your vocation is not listed, or you are a carer, please get in touch to discuss.
What do I need to bring?
Basic stationery

Two bath sheets/sarongs

Small bath towel

Pillow/cushion

Suitable clothing for massaging

Cardigan/socks – can get chilly

Chinagraph pencil (if you have one)
Special requirements
Please notify any special requests for learning, dietary requirements, etc. 100% attendance is required – please advise any extenuating circumstances that may prevent this.
Is a payment plan available?
An initial deposit of $500 is required to secure your booking.  You can then make regular payments with payments finalised no later than 14 days before course start date. Please note, if early bird applies, then full payment must be made by said date.

What qualification will this give me?
The Casley-Smith Decongestive Lymphatic Therapy course structure has been rearranged so that the main theory and manual drainage are taught within what will now be called Module A, held over 6 consecutive days. There are also compulsory units of home study.

Module B will cover compression therapy, measuring and special considerations.

This new structure allows graduates to function with completion of Module A. A certificate of attendance will be issued upon completion of this module, but obviously cannot be the full ALA accreditation.
It will now be possible to attend Module B at a later date that better suits students.
If Module B is not attended within 2 years, refresher study will be required prior to attendance.
ALA education requirements are periodically reviewed, which may impact all accredited courses. For this reason, it is recommended that graduates from Module A complete Module B as soon as they are able.
When Module B is completed, graduates will receive the certificate recognised by the ALA.